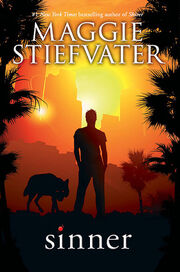 Sinner will be fourth entry of the Wolves of Mercy Falls series. It would be released with Isabel and Cole being the protagonists.
Publisher's summary
Edit
Sinner follows Cole St. Clair, a pivotal character from the #1 New York Times bestselling The wolves of Mercy Fall Trilogy. Everybody thinks they know Cole's story. Stardom. Addiction. Downfall. Disappearance. But only a few people know Cole's darkest secret -- his ability to shift into a wolf. One of these people is Isabel. At one point, they may have even loved each other. But that feels like a lifetime ago. Now Cole is back. Back in the spotlight. Back in the danger zone. Back in Isabel's life. Can this sinner be saved?
Ad blocker interference detected!
Wikia is a free-to-use site that makes money from advertising. We have a modified experience for viewers using ad blockers

Wikia is not accessible if you've made further modifications. Remove the custom ad blocker rule(s) and the page will load as expected.